Back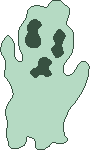 BOO!

!!! IT'S HALLOWEEN !!!
Pixels I made for the 32Bit Cafe's Halloween event:





(feel free to adopt anything of mine off this page!)
Treat Bags! What's Inside?
I used to make treat bags for my friends every Halloween, but haven't for the last couple of years. I finally made some again, just this time they're digital! Click a bag and see what's inside!













I made this page extra long so you could work around that guy ->
Have a candy apple for the ride back up: